November 20, 2023 7:37 AM IST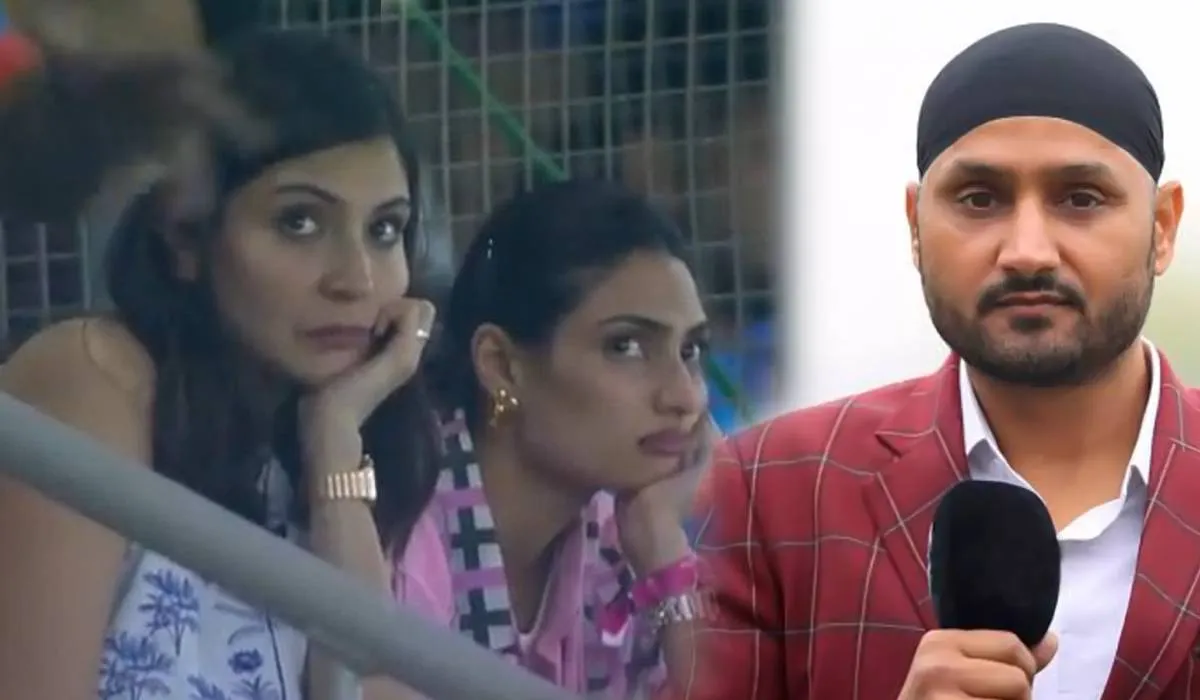 The Indian cricket team and the Australian team faced each other at the Narendra Modi Stadium in Ahmedabad on Sunday. There was a tough confrontation between the two. Bollywood stars also arrived to watch the final match of the World Cup in the world's largest cricket stadium. During this period, wives of many cricketers were also present. Virat Kohli and KL Rahul's wives Anushka Sharma and Athiya Shetty were also present in the stadium to watch the game. Many of his pictures and videos cheering Team India were trending on social media. Even both were sitting next to each other in the stands. Meanwhile, Harbhajan Singh, present in the Hindi commentary box, said something about both the actresses that made their fans angry. People did not like Harbhajan's words at all and he was scolded a lot.
Harbhajan had given this statement
During the commentary, Harbhajan said, 'He has no knowledge of cricket, he is probably talking about films.' Soon after, Harbhajan is facing criticism from everyone on X (earlier Twitter) for his comments on Anushka and Athiya.
X user taught Harbhajan a lesson
An ex-user wrote, 'Harbhajan Singh should be ashamed who is sitting in the commentary section and making absurd comments.' Another ex-user wrote, 'A few days ago Harbhajan Singh had asked what Inzamam was drinking. Looks like Eng Bhai gave some of it to him and now he is drunk. Another irate user wrote, 'The audacity of Harbhajan Singh talking about how Anushka and Athiya would be talking about films because they don't understand the game of cricket..in the national media!'
See X post here
Netizens took class
One user got very angry and targeted Harbhajan Singh's wife and said, 'Harbhajan Singh, your wife may not know much about cricket, but judging Anushka and Athiya from the same perspective is a gender comment. . I hope you are not learning from your friend Razzaq. The matter did not stop there, one user wrote, 'Harbhajan Singh should think before speaking. What you mean to say is that Anushka and Athiya will talk about films and not cricket because they have very little understanding of the game. If her husband plays cricket then why wouldn't she have knowledge?
See X post here
the match was like this
Let us tell you, Australia defeated India in the World Cup final and captured the trophy for the sixth time. They won the toss and chose to bowl first. Batting first, India gave a target of only 240 runs. Although the Indian bowlers tried to defend the low score by taking three important wickets in the first powerplay, but even after this, Australia played brilliantly and registered the victory. A strong partnership was seen between Travis Michael Head and Marnus Labuschagne. Australia easily achieved the target of 241 runs and won the match by six wickets. Indian fans were heartbroken after losing the final match.
read this also: Kapil Dev celebrated even before the IND Vs AUS match, did a kurtafaad dance with this beauty
Sara Tendulkar came to cheer Shubman Gill, shared a cute video before the IND Vs AUS match
Latest Bollywood News