November 20, 2023 3:54 PM IST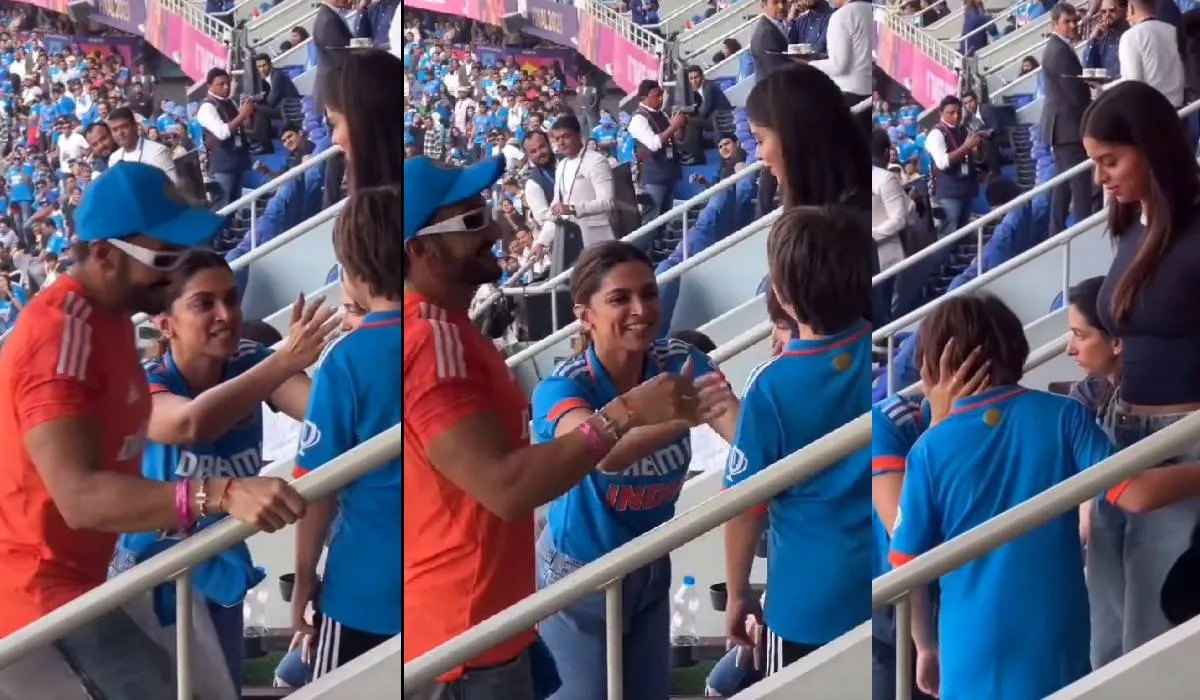 The Indian cricket team faced disappointment yesterday. India's defeat left everyone disappointed. India remained just one step away from the World Cup trophy at the Narendra Modi Stadium in Ahmedabad. Australia gave a crushing defeat to India. Even though India lost the match, everyone from common people to Bollywood celebs came to watch this match. Bollywood's King Khan Shahrukh Khan had come to watch the match with his entire family. Shahrukh Khan's wife Gauri, all three children, Abram, Suhana and Aryan Khan were seen. Many cute moments of Abram have also been captured. One video is quite cute, in which he is seen with Deepika Padukone.
Abram-Deepika's video goes viral
Both Deepika Padukone and Ranveer Singh had come together to watch the match. Deepika's parents and sister were also seen. Like Shahrukh Khan's family, Deepika Padukone's family was also seen boosting the morale of the Indian team. A video of this very moment is going viral. In this video, Deepika Padukone is showering love on Shahrukh Khan's younger son Abram. In the video, Deepika Padukone is seen pulling Abram's cheeks and kissing him. Suhana Khan and Ranveer Singh are also seen in the video. Ranveer hugs Suhana. Deepika's special bond with Shahrukh Khan's children can be seen in the video.
Watch video here
Shahrukh's beloved became sad
India's defeat not only disappointed the countrymen and players but also disappointed Bollywood celebrities. In this series, another video of Shahrukh Khan's son Aryan Khan and Abram has surfaced. Both are seen leaving in the car. Both are looking quite sad. Abram sitting in the back seat looked sad and disappointed. Whereas Aryan Khan's face remained hanging. He was seen covering his face with his hands in sadness.
the match was like this
Let us tell you, Australia defeated India in the World Cup final and captured the trophy for the sixth time. They won the toss and chose to bowl first. Batting first, India gave a target of only 240 runs. Although the Indian bowlers tried to defend the low score by taking three important wickets in the first powerplay, but even after this, Australia played brilliantly and registered victory. A strong partnership was seen between Travis Michael Head and Marnus Labuschagne. Australia easily achieved the target of 241 runs and won the match by six wickets. Indian fans were heartbroken after losing the final match.
read this also: Sachin Tendulkar did something for Asha Bhosle after the IND Vs AUS match, you will also appreciate it after watching the video.
Shahrukh Khan's younger son Abram looked sad after India's defeat, Aryan Khan's face hanging, video went viral
Latest Bollywood News