November 21, 2023 1:23 PM IST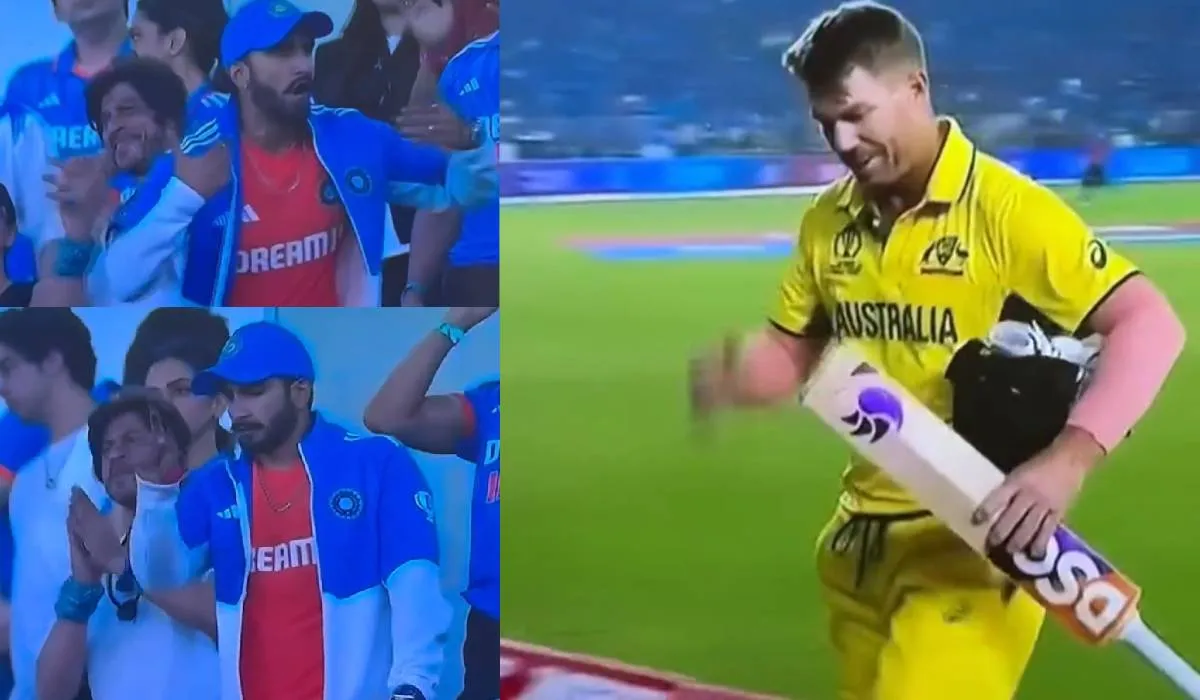 Many memorable moments emerged from the spectacular World Cup final match played between India and Australia on Sunday. Many such moments were captured in the camera which people are watching again and again. Even though India lost in the finals, the countrymen were seen boosting the morale of the players. Exciting things were also seen amidst many emotional incidents. Many Bollywood stars had come to watch the match. During this time, these celebs also boosted the morale of the Indian players. Recently, a video of the match is going viral, in which Ranveer Singh is seen. According to netizens, Ranveer's excitement turned into over-acting. This was seen when David Warner was out. Now Ranveer Singh is being trolled badly.
Ranveer made strange gestures
Actually, in the video that surfaced, David Warner is seen returning to the pavilion after the fall of the wicket. Ranveer Singh becomes very excited after seeing him returning to the pavilion. They start doing strange actions. Ranveer's facial expressions and his body language also seem to have changed. Not only this, Ranveer Singh also gestures towards David Warner and the audience. He asks the public to shout more. Shahrukh Khan and Deepika Padukone were also seen present there during this entire incident. In both the videos, they were clearly seen ignoring Ranveer Singh's actions. While Shahrukh was seen cheering the team, Deepika was seen talking to the other people present. Right after this, Ranveer says something to Deepika, but she completely ignores him.
People made such comments
After watching the video, people are trolling Ranveer Singh badly. People say that Ranveer Singh is overacting. At the same time, one has called him a shop of over acting. One wrote how much overacting you will do. One has called Ranveer Singh a dramatist. One of them, pointing towards Deepika, said that due to this over-acting, his wife's attention is diverted somewhere else. While one wrote that Deepika Padukone must be wondering what kind of example she has adopted. One person commented very funny and wrote, 'He will do the same in Don 3 also.' One crossed the limits and wrote, 'Deepika Padukone should try 4-5 more boys.' One of them has directly asked Chaur to deduct five rupees for overacting.
Watch video here
the match was like this
Let us tell you, Australia defeated India in the World Cup final and won the trophy for the sixth time. They won the toss and chose to bowl first. Batting first, India gave a target of only 240 runs. Although the Indian bowlers tried to defend the low score by taking three important wickets in the first powerplay, but even after this, Australia played brilliantly and won. Australia easily set the target of 241 runs thanks to a strong partnership between Travis Michael Head and Marnus Labuschagne. Amazing performance by winning the match by six wickets.
read this also: Deepika Padukone became crazy about the cuteness of Shahrukh Khan's younger son Abram, showered her love on him
Sachin Tendulkar did something for Asha Bhosle after the IND Vs AUS match, you will also appreciate it after watching the video.
Latest Bollywood News