November 19, 2023 4:37 PM IST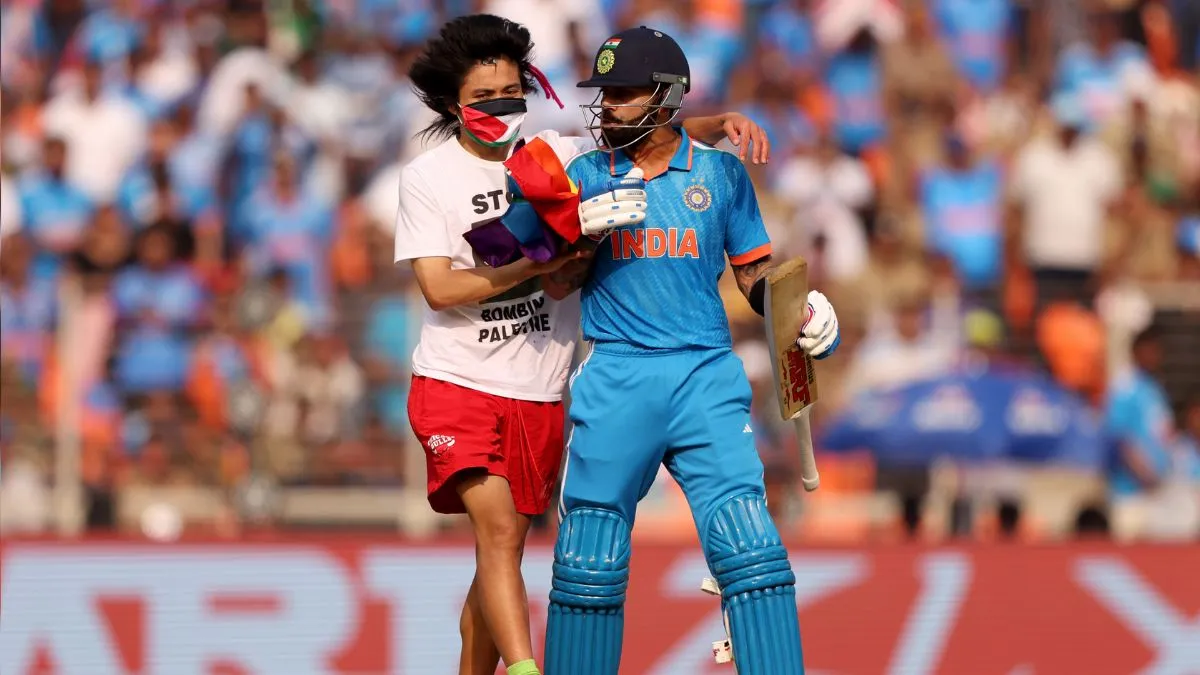 Ahmedabad: The final match of the ICC ODI World Cup is being played at the Narendra Modi Cricket Stadium in Ahmedabad. Indian and Australian supporters are present throughout the ground. There is a tremendous atmosphere in the field. During this time there was a huge security lapse. A young man present in the spectator gallery entered the field carrying a T-shirt and flag of Palestine. During this time, Virat Kohli was batting and the young man went and stood near Kohli.
The young man was detained by the police
There was a commotion as soon as the young man entered the field. The umpire immediately signaled the groundsmen to take the young man out. However, it is not yet known who is the young man who entered the field. However, the police immediately took the youth into custody. The young man had put a mask on his mouth. But it looks like he is not an Indian. Let us tell you that before the match, tremendous security arrangements have been made inside and outside the ground.
3 thousand policemen are deployed in the stadium
Keeping in mind the movement of more than one lakh spectators at the stadium and the presence of many dignitaries, elaborate security arrangements have been made with Gujarat Police, Rapid Action Force (RAF), Home Guard personnel. Ahmedabad Police Commissioner GS Malik said, "More than 6,000 police personnel will be deployed to ensure that this historic match goes off without any hassles." Of these 6,000 personnel, about 3,000 will be deployed inside the stadium while the rest will be deployed for security at other key locations, such as hotels where players and other dignitaries will be staying.
10 teams of bomb disposal squad deployed
National Disaster Response Force (NDRF) teams will also be deployed in the city to respond to any chemical, biological, radiological and nuclear (CBRN) emergency during the match, the Ahmedabad police chief said. He said 10 teams of 'Bomb Detection and Disposal Squad' as well as two teams of Chetak commandos, an elite unit, would be deployed near the stadium. Asked whether the police had received any information regarding the possible threat, Malik said the media should not highlight such threats issued by unknown persons based outside India. "We are well prepared for any threat," he said. Some people sitting in Canada or any other country just send a threatening email or share an audio or video of any threat and the media makes hype about it. I believe there is no need to pay attention to such things.
Latest India News